The Matrice series has been one of the most popular DJI drones in the market. On May 7th, 2020, DJI officially launched the Matrice 300 RTK. This flagship drone is aimed at fulfilling industrial needs and is equipped with the tools to do that. The Matrice 300 (M300) is accompanied by a hybrid camera that is called the DJI Zenmuse H20/H20T. The M300 has dramatically outdone its predecessor models in flight time, AI capabilities, functionality, and much more.
DJI Matrice 300 Specifications
Flight Time: 55 minutes (without payload)
Payload Capacity: 2.7 kg
Maximum speed: 27 m/s (97.2 km/h)
Maximum Transmission: 15 kilometers (9.32 miles)
Water resistance: IP45 certified
Working temperature: -20°C to 50°C
Maximum Altitude: 7000 meters
Real-time auto-switching between 2.4GHz and 5.8GHz
Data Security: AES-Encryption
Sensors: Dual vision & ToF sensors (6)
Drone weight: 6.95kg/13.9lb (with 2 batteries)
Zenmuse H20 Series
DJI's Zenmuse H20 series introduces the first hybrid sensor solution for the commercial drone industry. The H20 series features a laser rangefinder, thermal camera, and high zoom capabilities. The cameras come in two models- Zenmuse H20 and H20T. The latter is the thermal camera. The Matrice 300 RTK has a triple payload carrying capacity. Thus, the drone operator can attach 3 camera gimbals on the drone.
Specifications
Weight: H20 (678±5 g) & H20T (828±5 g)
Water and Dust Resistance: IP44
Operating Temperature: -20°C to 50°C
Detachable mechanical gimbal
Active Image Stabilization and EIS
Zoom Camera Sensor: 1/1.7″ CMOS, 20 MP
Resolution: 4K at 30fps and 1080p at 30fps
Wide-Angle Sensor: 1/2.3″ CMOS, 12 MP (with resolution of 1080p @ 30fps)
Laser Rangefinder(LR): 3-1200m measurement range (950nm wavelength)
Hybrid Optical Zoom: 23x
Maximum Zoom: 200x
Thermal Camera sensor(H20T): Uncooled VOx Microbolometer
Thermal Camera Range (H20T): -40 °C to 150 °C (High Gain) and -40 °C to 550 °C (Low Gain)
Zenmuse H20
The DJI Zenmuse H20 is a triple sensor camera payload for the Matrice 300. The three sensors consist of a 20MP Zoom Camera, 12 MP Wide-Angle Camera, & 1200 LR. It also features a night vision mode for seamless low-light performance.
Zenmuse H20T
The Zenmuse H20T is a quad sensor payload. It hosts the same sensors as the H20 with an addition of a radiometric thermal camera (640×512 video resolution)
Enhanced Performance
The Matrice 300 is nearly 2kg heavier than the earlier 200 series. Despite its heavier weight, it flies for an average of 45 minutes with one payload or 55 minutes without one. This has been made possible by DJI's TB60 intelligent flight battery.
Battery
DJI Matrice 300 RTK is powered by two TB60 intelligent flight batteries. These batteries are high-capacity swappable ones. The TB60 allows operators to change batteries without powering off the drone, thereby saving time.
A single TB60 battery holds a capacity of 5935 mAh, 52.8V. Both batteries can be fully charged in under 60 minutes using a 220V input. However, by using a 110V input they can be fully charged in 70 minutes.
Advanced Situational Awareness
The M300's uncompromising safety consists of dual vision & ToF sensors on 6 sides of the drone. Additionally, it also features an integrated Primary Flight Display (PFD) in the controller. The PFD is a massive upgrade over standard telemetry & navigation data. The M300's PFD provides essential obstacle data that can help correct flight trajectory and improve situational awareness.
The Matrice 300 RTK comprises AES-256 data encryption for data Security and AirSense (ADS-B technology) for added airspace security. It also features an Anti-Collision Beacon to greatly assist in low-light operations.
Lastly, DJI has included a UAV Health Management System (UHMS) to monitor drone performance and maintenance. The UHMS records flight data and tracks the system software and hardware performance to suggest when servicing is required. The UHMS is also responsible for managing firmware updates in your drone fleet.
Control and Transmission
Another stark functionality of the drone is its transmission range. It can transmit data for a whopping 15 kilometers or 9.3 miles. The OcuSync Enterprise enables it to transmit data over such long distances all the while supporting triple-channel 1080p video.
The M300 RTK comes with an Advanced Dual Operator Mode. This means that when two pilots are operating the drone, they can easily switch flight priority. For instance, if one pilot loses control of the drone, the second pilot will be able to gain complete access without compromising the operation. This transfer of flight priority can be done through the DJI Smart Controller Enterprise.
Smart Data Collection
The Matrice 300 RTK uses two different ways for data acquisition. The first method is called the Smart Pin & Track. In this method an operator can pin a location or point of interest and share that data in real-time with the co-pilot or ground teams via the DJI Flight Hub. Also, the smart tracking feature enables the drone to automatically zoom and track moving objects and share that location in real-time.
The second method of data collection is called Smart Inspection. There are some new elements introduced by DJI here. Firstly, live recordings of flight operations have been made possible that can be stored as logs for future reference. Secondly, the introduction of advanced artificial intelligence in inspections. Once the pilot sets a point of interest, the AI can automatically recognize that and automate missions for consistent framing.
Finally, DJI has added a newer form of waypoint creation. This system can create up to 65,535 waypoints. With this, multiple actions can be set for different payloads to work independently. Also, the flight path is automatically optimized for flexibility of the payload actions.
Software and Customization
DJI has provided some extremely versatile applications along with the drone. The DJI Pilot app is the ultimate drone control station. While the DJI Flight Hub is the sole real-time data and tracking solution.
Additionally, the company has extended several SDK modules for third-party camera payloads, customized development of onboard features, and third-party mobile applications.
Practical Application and Pricing
The usage of the drone is not limited to oil & gas inspections but can range from search and rescue to law enforcement. The DJI Matrice 300 RTK removes the personal risk factor and replaces that with advanced AI and superior engineering. With this drone, operators can make use of multiple functions (thermal, night vision, external payload) simultaneously for long periods of time.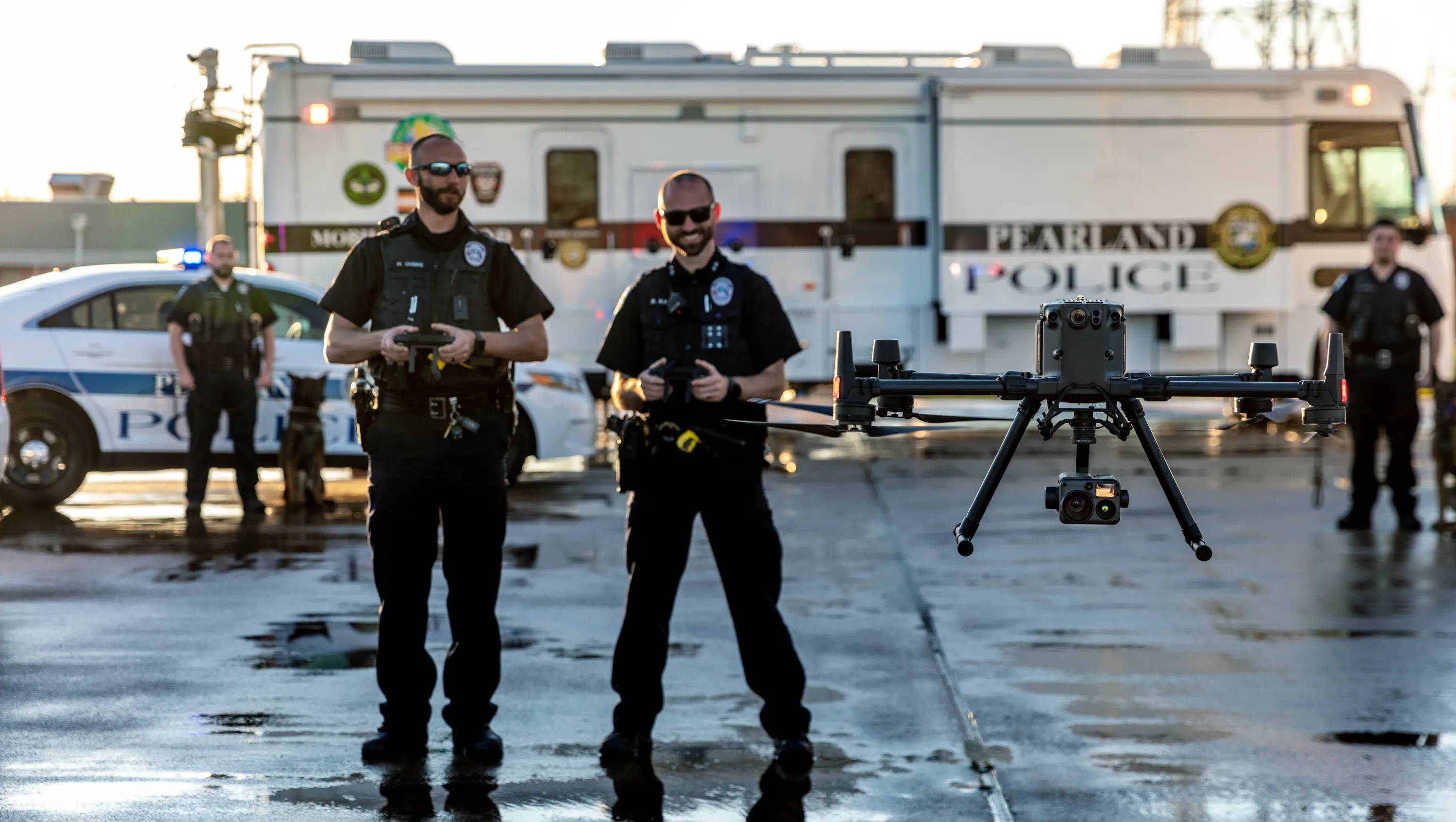 The M300 RTK could prove to be the game-changer with the amount of innovation it brings to the table.
For the pricing of the Matrice 300 RTK and the Zenmuse H20 payloads, users will have to request info/quote directly from authorized sellers (here).